< Back to all news
Visit ABS at Australia Trade Tasting 2022
ABS Wine Agencies, Thu 24 Mar 2022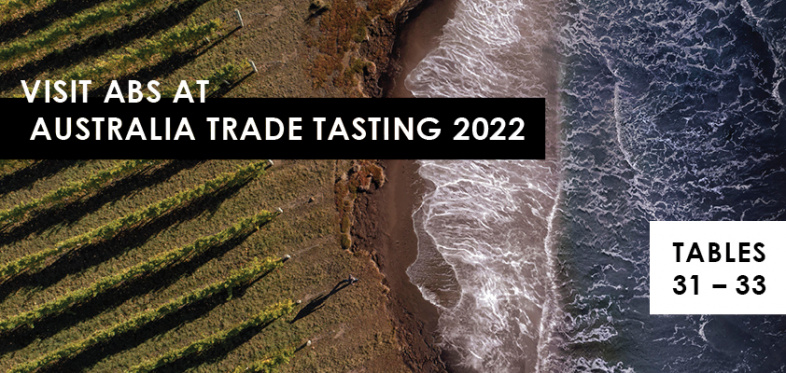 Welcoming back the trade to the Australia Trade Tasting 2022
With ancient soils, innovative winemakers and hugely diverse climates, Australia has so much to offer. Home to more than 135 grape varieties across 65 wine regions, our creative winemakers are pushing the boundaries and are crafting some of the most exciting wines in the world.
We're delighted to bring back IRL events with our Australia Trade Tasting in London on 7 April 2022. This is your chance to discover new wines, revisit the classics, and catch up with distributors and importers.
At full capacity with 54 exhibitor tables, the tasting will feature more than 700 wines from 160 producers. The tasting offers a much-needed opportunity for the on-trade, Indies and buyers to explore distributors' current Australian portfolios for the first time in two years.
A focus of this year's tasting is new-to-market wines seeking distribution. There will be a bespoke area and catalogue for 100 wines all eyeing up the UK as their target market.
The new-to-market selection covers 23 regions in Australia, from Adelaide Hills to Yarra Valley, Hilltops to Hunter Valley, with wineries ranging in size from small family owned to larger companies, organic and sustainable companies, start-ups to wineries that have been around since vines first arrived in Australia.
7th April 2022
The tasting will be split into two sessions of 3.5 hours each;
10.00 - 13.30
14.30 - 18.00
Please register by 5 April 2022 to secure your place.
Places are limited for each session and you will only be allowed access to the session for which you registered. You may only register for one session. We will cross check the registrations and will cancel one if you book for both.
The Royal Horticultural Halls, Elverton St, London SW1P 2PB, United Kingdom
ABS featured poducers