< Back to all news
New Agencies Arriving Soon - Flavia Wines & Corryton Burge
ABS Wine Agencies, Wed 06 Apr 2022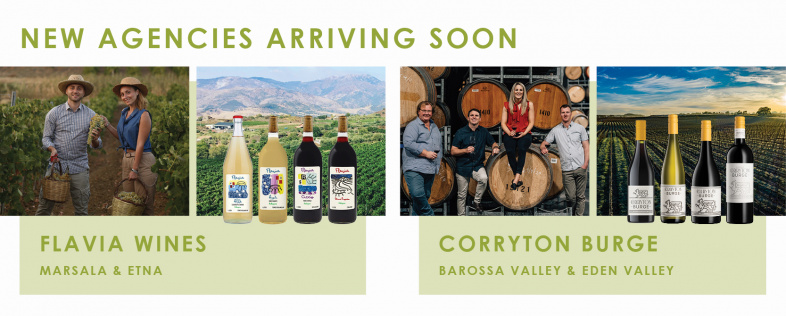 It has taken us a while to jump into the world of natural wine, making sure that we found the correct partner and style that fits the image of the families we represent. The Rallo family from Marsala, have ticked all the boxes for which we were looking. Fourth generation, Flavia and Giacomo have carved a niche for themselves producing an incredibly well packaged, sublime expression of Marsala and Etna; we can't wait for you to try the FLAVIA range.

With the history of ABS very much rooted in Australia, friends from down-under are plentiful. The opportunity to launch the Corryton Burge range, from sixth generation Trent & Amelia Burge, in the UK was too good to ignore. The Corryton Burge range we will be holding in stock, spans both South and South Eastern Australia, at a full spectrum of prices.

Flavia Wines
Named for Flavia Rallo, a young 4th generation wine producer, who is dedicated to the creation of native Sicilian wines. The wines are produced practicing sustainable, organic and non-invasive cultivation and production techniques, all fruit is certified organic and wines are unfiltered with very low sulphites.
The wines are grown in the historic vineyards of the Rallo family, which date back to 1860. They are located between Contrada Birgi and Paolini, a stone's throw from the historic Marsala salt pans. This proximity to the sea contributes to the creation of soils rich in minerals, characteristics that give life to unique wines with Sicilian flavours and aromas. They also have vineyards in DOC Etna, where vines are planted on the northern slopes of Mount Etna, some rising to a height of 950m above sea level, on sandy volcanic soils, high in mineral content.
Corryton Burge
The Burge family name is synonymous with the Australian wine industry. The launch of Corryton Burge by the 6th Generation Brother and Sister duo; Trent and Amelia Burge is the next step in the family's winemaking journey. Nestled in the rolling hills of the Barossa and guarded by Griffins, fabled creatures said to protect precious possessions, Corryton Park Homestead is the spiritual home for our family. A place where friends and family come together to share the joy of wine.
"Our roots stretch back six generations to one of the original settler families of the Barossa Valley. Wine isn't just something we make, it is a part of who we are. We don't work in the wine industry, we live it. Every single day. So, when you pick up a bottle of Corryton Burge, you can be sure we haven't just made great wine. We've put our heart and soul into it."