< Back to all news
The Proven Pioneer - Austin Hope in Wine Enthusiast
ABS Wine Agencies, Tue 30 Nov 2021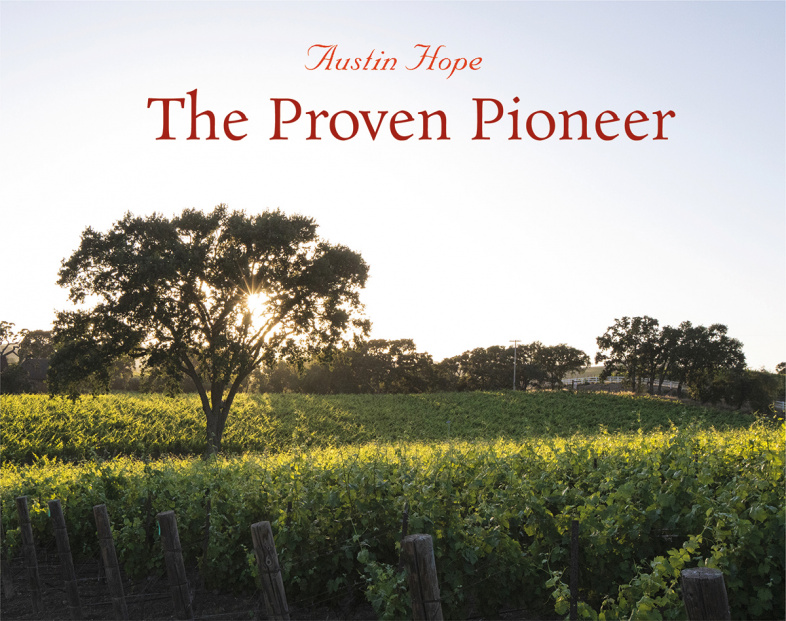 The Proven Pioneer
Hope Family Wines Puts Paso Robles Over Everything Else
Elegant while casual in attitude, luxurious yet accessible in spirit, and powerful but playful in style, Paso Robles is the quintessential American wine country, a place where everyone can find a wine to suit their taste as well as their budget. This conscious combination of upscale approachability is no accident: It's the exact goal that proven pioneers like Austin Hope of Hope Family Wines set out to achieve more than 40 years ago, when first planting vineyards on the hillsides of Paso Robles.
"Paso Robles runs deep in my family's blood, and we've never wavered from it," says Hope, who started tending to the vines when he was just eight years old and became in charge of winemaking for his family in 1998. "We're still family owned, We're still pushing the envelope. We're still fighting to drive that Paso Robles name, not only in the United States, but globally."
The latest evidence is the brand new release from Hope Family Wines. Simply called Austin, the Cabernet Sauvignon prominently displays "Paso Robles" as the largest and most eye-catching part of the label. "A marketing expert would say that this is the worst label ever, when it comes to branding a company, but that makes you understand how insanely passionate I am about Paso Robles" said Hope. "It's not about me or my family or our company. It's about the region. I want to keep putting that in people's faces: Paso, Paso, Paso."
The Austin bottling is just the next in a lineup of Cabernet Sauvignons that range in cost from just $15 for the Liberty School to $125 for the Austin Hope Reserve. That price diversity is a critical strategy to making Paso Robles the right choice for wine enthusiasts of all sorts, offering satisfaction up and down the economic scale.
"It's about creating something that everyone can access," said Hope. "I fundamentally disagree with simply aiming to establish the highest price point. That's not who we are. That's just not right. We want to create an honest product that all can enjoy. Luxury should not be synonymous with exclusivity."


To make his range of Cabs, Hope works with more than 60 vineyards from across Paso Robles, all of which are members of the Paso Robles Wine Country Alliance and focused on achieving sustainability goals through a SIP Certification. In order to offer complexity in the finished bottles, the family sources from all 11 of the region's sub-appellations, from the steep, wooded western slopes to the gently rolling, sunbaked hills out to the east.
Hope helped develop this specific geographic breakdown, which was approved by the federal government back in 2014, but is wary of elevating these smaller regions over the whole of Paso Robles. "It's not about the east side. It's not about the west side. It's not about these sub-AVAs," said Hope.

"Luxury should not be synonymous with exclusivity."

"The sub-AVAs only tell the story of how diverse Paso is and how much we can do when it comes to grape growing and winemaking."
Hope recalls when his primary challenges were getting Paso Robles wines on big city wine lists and in front of critics. That's long since been achieved, and now Hope Family Wines are in every state and 22 countries, with exotic locales like Romania and Vietnam recently added to their list. Critics now regularly swoon over the wines, consumers from near and far are streaming into tasting rooms like never before, and even famous musicians, athletes, and actors are fans, appreciating how the region marries downhome vibes with delicious wines.
"I truly believe in the rising tide of Paso, and I couldn't be more excited about where we are today," said Hope. "We're extremely proud of what we've done. But it's not enough. We want to keep going. One of my lifelong goals is to make Paso Robles a household name, and I know that will happen."
Learn more about Hope Family Wines and the special region of Paso Robles at www.hopefamilywines.com or view on our website here www.abs.wine/our-wineries/hope-family-wines/