< Back to all news
The IWSC brings its international awards to Somerset!
ABS Wine Agencies, Wed 05 Apr 2023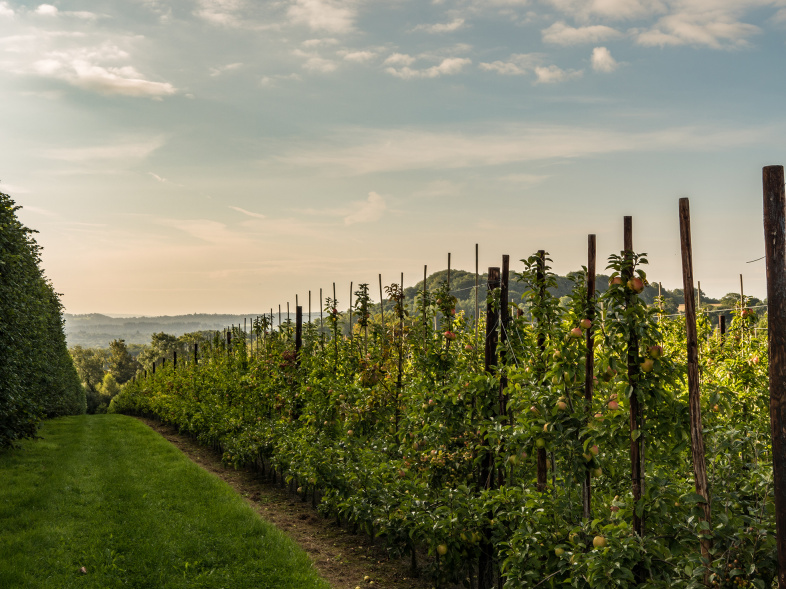 The IWSC brings its international awards to Somerset!
This summer, the IWSC is bringing its international awards to Somerset, South West England, to judge cider, perry, and fruit wine made from 100% juice, not from concentrate.
The 2023 competition – now in its third year – is open to all cider, perry and fruit wine makers whose products only contain freshly pressed and fermented fruit, or fruit must, using no concentrates or added water, flavourings or colourings.
The South West of England is renowned for its cider and perry, and in collaboration with Cider is Wine, the IWSC looks forward to bringing a panel of internationally recognised judges to Somerset to taste entries submitted from all over the world.
Alistair Morrell, Founder of Cider is Wine and panel judge, comments: "Ciders, perries, and fruit wines have a huge heritage in this country, and a massive reputation worldwide. The IWSC helps re-assert a standard for these drinks, which has almost been lost, and now allows the category to place itself at the pinnacle of drinks aspiration as they were 200 years ago!"
Christelle Guibert, CEO of the IWSC: "We are determined to raise awareness of this underrated 100% fresh pressed cider, perry and fruit wine, and to highlight the diversity, the versatility, and the quality this category offers to trade and consumers. We are excited to bring our experts to Somerset to judge this category."
Entrants to these awards will benefit from:
Discounted entry fee (£99) into one of the world's most respected drinks awards (usually £159)
Award winners put in front of the IWSC's global audience
Inclusion in the IWSC's 2023 communication campaigns
Access to a panel of the IWSC's internationally renowned wine judges
Media coverage to promote the category
Judging will take place on 11 and 12 July at the Somerset Cider and Brandy Company. Results will be announced on Monday, 17 July.
Entry is open now, and full information on how to participate can be found www.iwsc.net/alternative-drinks/cider. Entry closes on 16 June. The tasting is available to everyone; there's no need to be a member of Cider Is Wine to enter.
-Ends-
About the IWSC
The IWSC is more than a competition. It is a global wine and spirits community, focused on people and expertise.
Our mission is to champion the best wine and spirits from around the world by taking a personal approach to our partners' needs. We offer comprehensive business support via our network of world-class experts and aim to bring this global community together to share insights and help each other grow.
We don't just champion award winners. We seek out undiscovered talent and help partners – large and small – reach ambitious targets and achieve their goals.
Founded by Austrian wine chemist Anton Massel in 1969, we are proud to have over fifty years' experience rigorously assessing and celebrating the best wine and spirits. Our meticulous standards, attention to detail and world-class expertise sets us apart as the partner of choice for producers, distributors, influencers and experts the world over.
Wine, spirits, knowledge, community. Since 1969
About Somerset Cider & Brandy Company and Burrow Hill
For over thirty years Julian Temperley and The Somerset Cider Brandy Company have been reviving the ancient art of cider brandy production in the UK. In 1989 his pioneering spirit led to HM customs granting the UK's first ever full cider-distilling licence.
Cider has been made at Burrow Hill for hundreds of years. Every year the harvest starts when the first of the company's 40 varieties of apples start to fall. The art and the craft of cider making is blending these apples. At Burrow Hill this is the responsibility of Julian Temperley who has been making cider for over 50 years.
About Cider is Wine
The quality mark for ciders, perries and fruit wines fermented from 100% juice, not from concentrate.
The Cider Is Wine vision is that by 2030 all applicable trade and consumers globally will be aware of this 'new' drinks sector for 100% juice not-from-concentrate ciders, perries and fruit wines.
Cider Is wine currently has over 20 members and more than 100 products from the UK and across 4 continents and 7 countries.
With products that are gluten free and vegetarian and vegan friendly and, typically, contain as little as half the alcohol of grape-wine Cider Is Wine's activities are targeted at Millennials and Gen' Z' – the so-called 'less but better' generations.