< Back to all news
The Buyer Interview with Chuck Cramer from Rutherford Hill and Elliot Awin
ABS Wine Agencies, Thu 10 Dec 2020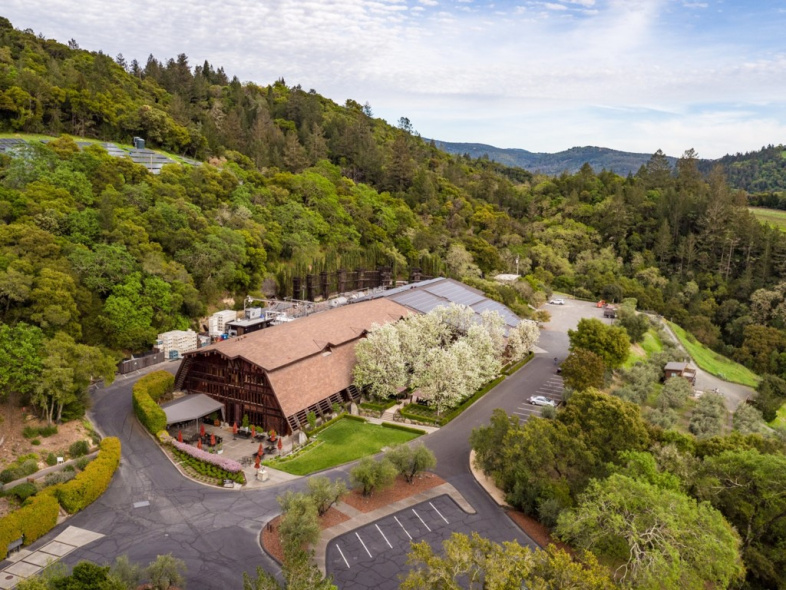 The Buyer Interviews Chuck Cramer from Rutherford Hill and Elliot Awin, Click here to view the full article written by Richard Siddle on their website
Getting your channel management right is key for any wine producer looking to make inroads into the right segments of the UK on and off-trades, but in 2020 it has become paramount in how visible and successful your brands have been. For Chuck Cramer, director of European sales and marketing for Terlato Wines, producer and marketer of luxury wine brands in the US, it has meant having to refocus where many of its on-trade reliant wines now sit, which has seen him strike a new working partnership with ABS Wine Agencies to look after its key Rutherford Hill, Napa brand. Here Cramer and ABS' Elliot Awin, explain to Richard Siddle how they were able to come together quickly and get sales moving through the specialist and premium retail channels.
Chuck Cramer has worked tirelessly throughout Covid-19 to keep sales moving of the Terlato Wines range moving in the UK and across Europe & the Middle East and could not be more pleased with his new partnership with Awin Barratt Siegel (ABS) Wine Agencies.
Anyone updating a directory of which wine importers and distributors handle which wines is going to have their work cut out pulling together a guide going into 2021 such has been the enormous turnaround of producers now working with different suppliers in the UK market.
The last 10 months have been like no other with week after week of not just disruption, but an almost impossible task to be able to plan and forecast which wines it has been possible to sell where and how.
For those wine producers and importers who relied almost exclusively on the on-trade as their main business channel it has been particularly difficult. Not only have restaurants, bars and pubs been shut for large parts of the year, when they have been open the Covid-19 restrictions has meant they have been working hard just to stand still. There has been little opportunity to drive and promote the premium wines that are usually responsible for so much of the dynamism of the premium on-trade.
It's a problem that Chuck Cramer, who heads up sales and marketing for Terlato Wines' predominantly Californian range of premium wines into the UK and Europe, has had to handle throughout 2020.
First and foremost he has worked even closer than normal with the importers of the various wine brands in the UK, but in particular has gone out of his way to meet and talk to the restaurant owners, the sommeliers, and general managers of the key on-trade outlets that he has forged such close ties with in recent years.
"They have been my number one priority," says Cramer. "I have looked to do all I can to help and support them in any way to provide the stock and supplies they have needed. It's also been a case of just going to visit, and talk and show my personal support to them through these extraordinary times."
Being realistic
But he has also had to be realistic and realise if he is to maximise the sales opportunity for his Terlato Wines portfolio, that includes Californian iconic brands such as Sanford, Chimney Rock and The Federalist, he has had to find new partners to help him capitalise on the big spike of sales happening in the specialist and independent retail channels.
Which was the route he has chosen to take for the prestigious Rutherford Hill Napa wine brand, which had exclusively been distributed into the on-trade through The Wine Treasury.
Cramer had to make the difficult decision to move the brand's distribution to an importer that had a wider reach into the independent and regional wholesale sectors and quickly decided that ABS Wine Agencies, whom he knew well and already had a friendly professional, but not trading relationship with, would be the ideal fit.
Cramer says the "changing trading environment" meant it was also an opportunity to "take Rutherford Hill to the next level" and to raise its profile in independents.
Elliot Awin, partner at ABS, says he was delighted to receive Cramer's call earlier in the year and the fact they knew each other meant they could move quickly, get their partnership in place and start selling wine within a week.
Right for its range
Rutherford Hill was also the strong, Napa brand that ABS had been looking for to complement and also fill a gap in its existing Californian range.
"Gaps are one thing, gravitas is another," says Awin. "We needed that gravitas in our west coast US wine range where we have two producers from Oregon (Twill Cellars, Division Winemaking Company ), three in California (Grgich Hills Estate, Hope Family, Peter Franus) and two in Washington State (Cascadia and Kevin White Winery). Rutherford Hill also comes in at a nice price point and really helps complement what we have."
When looking for a new home for Rutherford Hill, Cramer was anxious to find a distributor that already had a position in the market with California wine, but where Rutherford Hill could really make a difference to their proposition.
As he explains: "Having one brand with one distributor can be hard. But ABS has other Californian wines and US wines to talk about. I like the fact that Grgich Hills is part of the range. It complements what we have with Rutherford Hill."
Cramer also needed to find the right range where the Rutherford Hill Merlot, its biggest seller in the UK, could really prosper. "California Merlot sits at a price point just below Cabernet and can offer a good premium, but also commercial opportunity. The Rutherford Hill Merlot provides that."
Awin agrees: "The Rutherford Merlot offers the best value of the whole US range."
As well as the Merlot the Rutherford range is focused on four main wines: Chardonnay; Merlot; Barrel Select, a Merlot blend; and Cabernet Sauvignon.
"The Napa Cabernet offers great value for money as well," says Cramer. "These are the four pillar wines in the US and that is the focus here in the UK as well."
Initial success
They have certainly hit the ground running. "We have got to a fantastic start," says Cramer. Within weeks they have been able to sell two pallets of wine, and have two more pallets on their way from California. "It means within 40 days we would have done four pallets of business," he adds.
"It's been a great opportunity to work with a family owned business, and work closely with decision makers and help them sell wine," says Cramer.
Awin says the initial weeks of sales have been very impressive and that it is working well going through its regional wholesale channels into independent merchants and then direct into restaurants through its sister, but separate, on-trade distribution, London Wine Shippers. Through which it has been able to secure listings with a number of fine dining outlets that it can build on going into 2021.
"We are very clear with our channel management," stresses Awin, "and that complete transparency works really well for this kind of partnership where we can handle all the logistics."
Having their regional wholesale network in place has been key in driving sales of Rutherford Hill so fast into the independent sector, he adds.
"We then have Chuck on the ground, who can provide his invaluable support direct with customers – one rib eye at a time."
Wide channel support
It is also good to know, says Awin, that the time it has spent building key distribution across multi channels has put itself in a good position in a situation as disruptive as this.
ABS is well placed to work with premium multiples like Waitrose, but also has support across a wide network of independent wine merchants and regional players.
It has certainly put itself in a stronger position during 2020 than it would have been if it had been relying on the premium on-trade for its sales, says Awin. "We're quite lucky to have that level of exposure," he says.
But you also make your own luck and ABS has "gone in hard to support indies" in recent years, he adds.
That support was ratcheted from one day one of lockdown when it decreased its minimum orders to 36 bottles and gave a 10% discount to those operators who could pay in cash.
"We've done what we can to support with online tastings [with independent merchants] and have created so many extra tastings," says Awin, who has found himself going from one zoom call to Instagram Live tasting after the next through both the long months of lockdown. It has also given him the chance to talk and engage directly with consumers and wine lovers, with groups of 250 tuning in, than he would normally be able to do.
"We reached out to all our independent customers and asked them what we could do," he adds. Cramer and Awin also teamed up themselves to do a tasting session with the Rutherford Hills range as part of the recent Sommelier Sessions run by the California Wine Institute.
Next steps
With extra pallets already heading to the UK, both Cramer and Awin are excited about what the Rutherford Hill range can do in the next 12 months.
"For a wine that sells at £35 you don't expect to see it sell so well through regional wholesalers, but it's testimony to ABS' business model. Having access to the right restaurants in London is also going to be crucial next year," says Cramer.
"Having Chuck on the ground in London is part of the reason we took on the brand," adds Awin.
"More and more of the agency work we do now we rely on them having an ambassador in the country. We like to have that connection. It is all about focus. They only have that one brand to talk about when they visit a customer."
For Chuck knowing there are other California and US wines in ABS' range at different price points means the "synergies are good". "If I go out with Eliot, or Henry (from London Wine Shippers) and it's fine if they want to talk about the other US wines as they are not competing with Rutherford Hill. I am trying to sell premium California and one helps the other. Wines are trying to get on lists for different reasons."
For example, Smith & Wollensky in London has taken on the Rutherford Hill Barrel Select, and Grgich Hills.
"We are working together to help make an account's wine list better," says Cramer. "Give them a point of difference."
Similarly with premium independent wine merchants and specialists retailers Cramer is keen to work directly with them in helping to build up a credible and efficient US wine range. "I am really enjoying spending more time with independents," he adds. "I have got to know so many over the years and now with ABS I have that reach to go and see them."
"Opening up new accounts is never easy. Particularly with all the lockdowns we have had, so it has been great to have some good wins. It's now a case of keeping that momentum going and building on the new accounts."