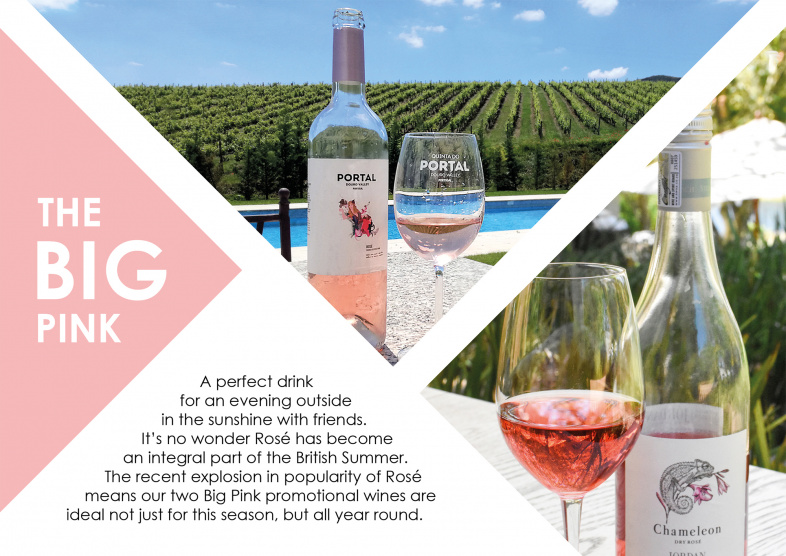 A perfect drink for an evening outside in the sunshine with friends. It's no wonder Rosé has become an integral part of the British Summer. The recent explosion in popularity of Rosé means our two Big Pink promotional wines are ideal not just for this season, but all year round.
Buy 6 cases get 1 additional case free
(cannot be mixed between lines) ABS to fund 1 bottle of each reference per deal done as tasting stock. Promotion runs from 1st July to 31st August. For more information contact your Account Manager or email us at orders@abs.wine E. and O.E
QUINTA DO PORTAL COLHEITA ROSÉ 2020 6x75cl
This is a dry and fresh Rosé produced from a blend of the premium Douro grape varieties, Tinta Roriz and Touriga Nacional. It has a delicate pink colour obtained by free run juice. Modern winemaking retains aromas of fresh wild berries and pomegranate. It is deliciously crisp and refreshing and is best served chilled as an appetizer or with salads, fish and shellfish.
JORDAN CHAMELEON ROSÉ 2020 6x75cl
A dry classic French "blanc de noir" style made from a free-run juice blend of shiraz and merlot. Harvested earlier to retain fresher acids and treated very reductively in the cellar, this helps to capture the primary fruit flavours of strawberry coulis & dried cranberries with delicate spiciness. Excellent with flash-fried prawns and red-chilli vinaigrette.
WIN A JEROBOAM OF MAS DE CADENET ROSÉ
For the best in-store or window rosé display featuring Quinta do Portal Colheita Rosé, Jordan Chameleon Rosé or Mas de Cadenet Rosé. Submit by posting to Instagram using #ABSTheBigPink and tagging @ABSWines @QuintadoPortal @Jordan_Wines @MasdeCadenet. All social media entries will be judged on 1st September and the prize winners notified.