< Back to all news
Howard's Folly's First Rosé - Press Release
ABS Wine Agencies, Tue 28 Jul 2020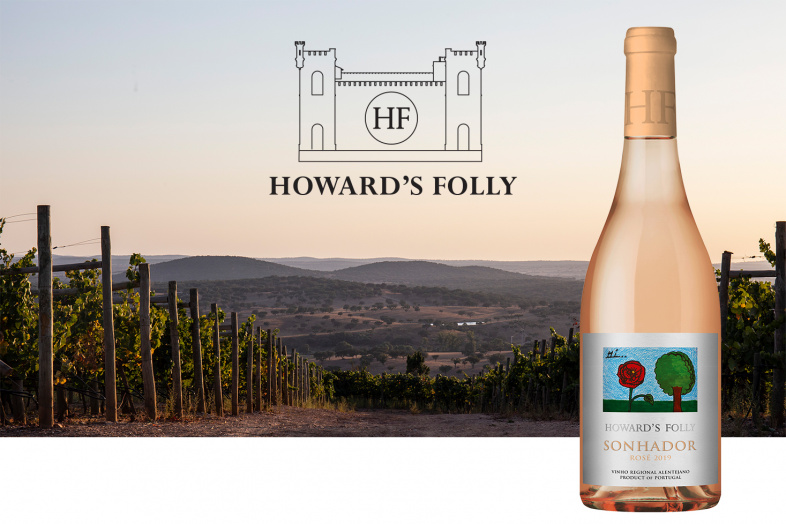 A toast to the summer with Howard's Folly's first rosé, made with two Portuguese grape varieties – Aragonês and Castelão -, the Alentejo based winery has just launched the Sonhador Rosé 2019
Lisbon, July 28th 2020 – Portuguese winery Howard's Folly, located at the heart of the Alentejo region, in the city of Estremoz, has just launched the Sonhador 2019, its first rosé. Created by British Businessman Howard Bilton and renowned winemaker David Baverstock, the urban boutique winery added this pale pink, salmon coloured wine to its Sonhador (Dreamer in Portuguese) range as a great option for the warm summer months.
To create a fresh and beautifully balanced rosé, Howard's Folly's Chief-winemaker, David Baverstock chose a blend of 65% Aragonês and 35% Castelão, "for their spicy, raspberry and strawberry fruit character".
According to David, getting the colour right is also very important. "This rosé is a pale pink, salmon colour, thanks to a very controlled maceration, with juice on the skins." And as far as the palate goes, it must be well balanced. "Often with rosés, if they're dry, they're too hard and the tendency is to make them a little sweeter. The Sonhador Rosé 2019 is completely dry, there's no added sugar. The concentration on the palate and sweetness come from the fruit we get from the Castelão and Aragonês," says the Australian winemaker.
The grapes are produced in Portalegre, in the North East of the Alentejo, some 36 Miles north of Estremoz, on the granite foothills of the São Mamede Mountains, where cooler temperatures and old vines give them complexity and freshness.
Art is an important part of Howard's Folly's DNA, it is one of Howard Bilton's passions. This is reflected on the wine labels that feature works of art. The rosé's label is no exception and was created by one of the young participants of the Sovereign Art Foundation's expressive arts programmes, which use art as a way to help children build confidence by providing access to expressive arts workshops across Asia.
Wine critic Matthew Jukes was one of the first to review the Sonhador Rosé 2019, saying that, "With a red liquorice and redcurrant theme, this is a more serious style than many southern French 'sweeter' numbers and with a more combative bite of sour cherries and cranberries and an upright stance on the palate, this is a fuller, foodier, more challenging wine. If you want to turn your brain off while you drink, by all means, head to the Riviera, but if you want to be turned on (in a vinous manner, of course) then Howard's Folly will reward your senses while coping with food"