< Back to all news
Federalist & Rutherford Hill Promotions
ABS Wine Agencies, Wed 29 Mar 2023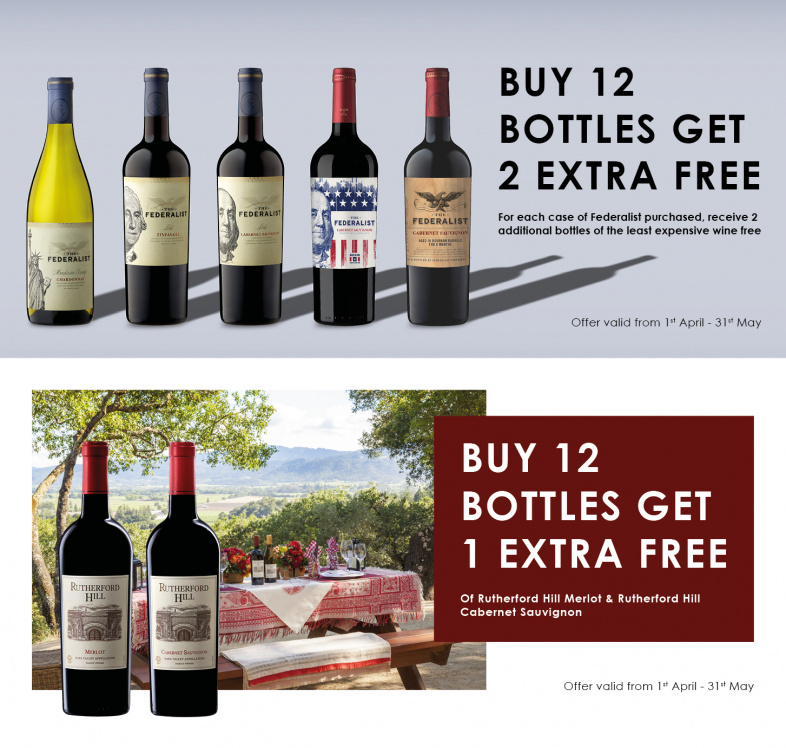 The Federalist - Buy 12 Bottles 2 Extra Free
For each case of Federalist purchased, receive 2 additional bottles of the least expensive wine free. Offers run 1st April – 31st May 2023. For more information contact your Account Manager.
The Federalist Chardonnay
When crafting the only white in our cellar, we took plenty of liberties. Boasting a big oak backbone, rich fruit flavors and a long, smooth finish, this is a Chardonnay that stands tall and proud. We honor Lady Liberty with this full-boded Mendocino Chardonnay featuring an aroma of lemon, pear, and a touch of cinnamon. The perfect wine for a light fare, deep conversation and declaring independence.
The Federalist 1776 Zinfandel
This wine connects the founding fathers love of wine, some of whom had vineyards of their own, with this historic appellation known for its old vine Zinfandel. On the forefront of fruit and pepper flavor stands a Zinfandel, wrought in rich strawberry notes and pepper spice, with a finish so smooth, you might call it revolutionary.
The Federalist 1776 Cabernet Sauvignon
The winesmith never rests. From grape to barrel, this Cabernet is crafted to quench your thirst with bold blackberry and cinnamon spice. Roll up your sleeves and uncork American craftsmanship. The best way we could honor the founding father Ben Franklin is with this wine.
The Federalist Cabernet Sauvignon 'Made in America'
This wine is a limited edition wine by The Federalist that celebrates America. From the weathered flag overlay to the sleek 'Made in USA' capsule, this wine is sure to stand out. The Federalist Lodi Cabernet Sauvignon LTO wine brings home a modem, timely variation of the classic Lodi Cab by The Federalist, with Benjamin Franklin still proud and prominent on the label.
The Federalist BBA Cabernet Sauvignon
In the spirit of American craftsmanship, this unique Cabernet Sauvignon represents the bold, American tradition of aging in charred bourbon barrels. These barrels weren't made for tea parties. Our Bourbon Barrel-Aged Cab rests in charred oak, giving way to smokey vanilla notes along with that distinct berry aroma. Enjoy it in any harbor you call home.
Rutherford Hill - Buy 12 bottles get 1 Extra Free
Of Rutherford Hill Merlot & Rutherford Hill Cabernet Sauvignon. Offers run 1st April – 31st May 2023. For more information contact your Account Manager.
Rutherford Hill Merlot
Deep ruby with intense aromas of dark cherry, plum, fresh fig with a hint of nutmeg, in the mouth it is medium-bodied with concentrated flavours of dark plum, pomegranate, dried cherries and a mocha finish that lead to supple and lengthy finish. Blended with classic Bordeaux varietals to produce a high quality, refined, luxury Napa Valley Merlot. This Vintage created near-ideal conditions for fruit to accumulate flavour complexity with gradual increases in sugar levels. Quality from family ownership and 40 years of Napa Valley tradition. Produced with estate grown fruit from our Napa Valley vineyards in Rutherford, Oak Knoll and Pope Valley. Gently aged in one of Napa's most extensive cave systems.
Rutherford Hill Cabernet Sauvignon
Rutherford Hill Cabernet Sauvignon is an outstanding example of the bold personality and unbridled flavour characteristics of a Napa Valley Cabernet. This ripe, sleek, elegant wine is carefully crafted then properly cave aged in French oak within one of the most extensive natural cave systems in North America, providing the ideal temperature and humidity throughout the aging process. Complex aromatic profile, with aromas of dark fruits of black currant compote layered with notes of cassis with hints of savoury herbs, anise, and baking spices. Intricately and intense flavours of dark cherry, cranberry with cocoa and baking spices. Supple, round with a smooth long finish.