< Back to all news
DISCOVER RIESLING - 31 Days of German Riesling 2021
ABS Wine Agencies, Wed 30 Jun 2021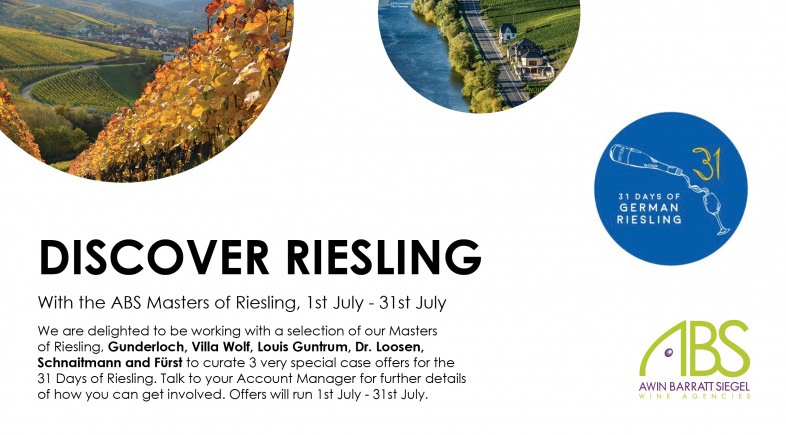 We are delighted to be working with a selection of our Masters of Riesling, Gunderloch, Villa Wolf, Louis Guntrum, Dr. Loosen, Schnaitmann and Fürst to curate 3 very special case offers for the 31 Days of Riesling. Talk to your Account Manager for further details of how you can get involved. Offers will run 1st July - 31st July.
THE DRY RIESLING EXPLORER CASE (12x75cl)
6 bottles of Gunderloch Estate Riesling Dry 2019
6 bottles of Villa Wolf Riesling Dry 2019
Containing two superb examples of entry level Dry Riesling. The first, Gunderloch Estate Dry Riesling, is produced in Rheinhessen by Johannes Hasselbach, the 6th generation to take the helm at Gunderloch winery. Clean, crisp, and modern dry Riesling. loaded with zesty citrus and fantastic minerality. The Villa Wolf Riesling Dry hails from the more southerly Pfalz, one of the warmer and drier regions of Germany, this wine displays an excellent balance of fruitiness and acidity.
THE CLASSIC RIESLING CASE (12x75cl)
6 bottles of Louis Guntrum Nierstein Bergkirche Riesling Kabinett 2018
6 bottles of Dr Loosen Ürziger Würzgarten Riesling Spätlese 2019
Showcasing two outstanding examples of "fruity" German Riesling this case includes the wonderful Guntrum Niersteiner Bergkirche Riesling Kabinett, a classic example of Rheinhessen Riesling Kabinett, grapes are grown on loess and sandly loam soils on approximately 2 hectares of this renowned southeast facing slope above Nierstein. Grapes for the Dr Loosen Urziger Würzgarten Riesling Spätlese are taken from the blazing red and insanely steep Ürziger Würzgarten vineyard, which fills the picturesque amphitheatre formed by a dramatic bend in the river. It produces wines with exotic, spicy aromas that are bursting with tropical fruit flavours. The estate's oldest vines are found here.
THE CURIOUS CASE (12x75cl)
6 bottles of Schnaitmann Steinwiege Riesling Organic 2017
6 bottles of Fürst Riesling Pur Mineral 2018
For those eager to explore further afield in Germany this case offers two wines from smaller, lesser-known regions. Schnaitmann Steinweige Riesling is grown organically just outside Stuttgart, in Baden-Württemberg. Rainer's laser focus in the vineyards is on full display in this Steinwiege Riesling, which shows great varietal purity and expression of terroir. Sebastian Fürst is perhaps best known for his Pinot Noir wines, but the Franconia region also produces terrific Riesling, grown on stony soils the Fürst Riesling pur Mineral is fermented bone dry and displays a real elegance and pure minerality, hence: pur mineral!