< Back to all news
Anne Krebiehl Reviews Rudolf Fürst - TheBuyer.net
ABS Wine Agencies, Wed 16 Sep 2020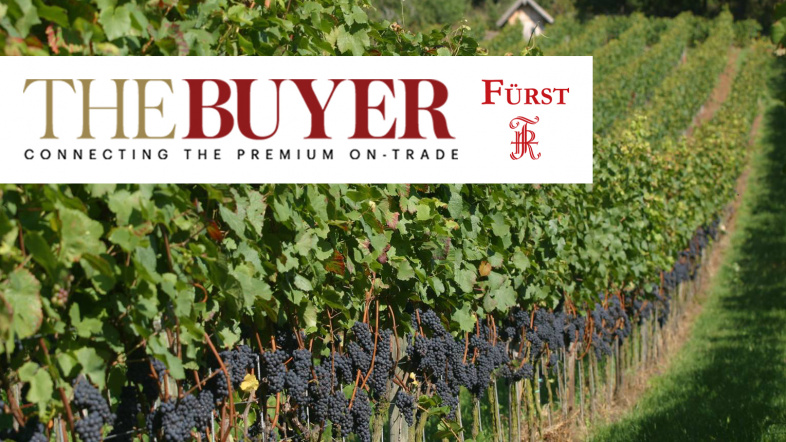 Anne Krebiehl MW knows a thing or two about Spätburgunder. The Wines of Germany author simply adores Pinot Noir and when she met Sebastian Fürst and his father Paul from Weingut Rudolf Fürst for a tasting of their new 2018 vintage, she simply declared that she may have tried Germany's finest. Well known in Germany, but under the radar in the UK, these wines are the purest elegance in a glass.
Fürst Spätburgunder Tradition 2018, Franken, 13%
Gorgeously juicy, bright fresh and translucent (even though Fürst says that this is the deepest colour they have ever had on this wine). More air reveals that tell-tale smell of iron-oxide and blood. A kind of peony darkness hovers over the red, ripe cherry fruit and casts a darker tone than usual. There is also a lovely notion of dried rose petal and a distant sense of clove that gives this a rather mouth-watering aspect. This has the sandstone elegance but comes with bolder, juicier fruit than usual.
Fürst Bürgstadter Berg Frühburgunder 2018, Franken, 13%.
Also from red sandstone soils, the Frühburgunder is distinctly reduced and flinty – for once not beguiling with its usually heady aromas. But the palate is one huge mouthful of generous juiciness. There is more oomph here and more obvious, ripe cherry fruit. A plush wine from a plush year that played into its hands to produce real, juicy fleshiness.
Fürst Bürgstadter Berg Spätburgunder 2018, Franken, 13%
A subtle smokiness hovers on the tender red cherry nose. The body has a lovely freshness, depth rather than concentration and that wonderfully red-fruited sinuousness. There is something luminous, vivacious and energetic at its heart, reverberating in this elegant frame. Yes the fruit is ripe, but this is juicy, vivid and fresh.
Fürst Centgrafenberg Spätburgunder Grosses Gewächs 2018, Franken, 13.5%
Again that stony, petrichor-like iron oxide note plays around the high-toned red cherry note on the nose. There is a floral edge, too, and some dried yarrow. There is lovely freshness, slenderness, a beautifully translucent, velvety texture and a depth that comes with plush richness and real concentration. Yes, the heat of 2018 peeps through, but it is firmly caught in its structural web, that is both fine and defined. The stems really shine through with wonderful firmness.
Fürst Centgrafenberg Spätburgunder Grosses Gewächs 2013, Franken, 13.5%
An initial whiff of lovage and bay leaf immediately gives a savoury impression. The taut palate then adds notions of blood orange peel and tart cherry. There is a lovely curve within that slenderness and such aromatic depth. Later on, there is a real blast of white pepper and still vivid fruit. The aromatics are such that they creep up slowly as you savour. Nothing here is obvious apart from elegance. This is only just hitting its stride. The peppery length is phenomenal.
The Weingut Rudolf Fürst Astheimer Chardonnay 2018 – village wine, 12.5% ABV
Smells of ripe lemon and chalk and is a really textured, smooth, creamy Chardonnay with ripe lemon juiciness. With more air a real sense of ripe stone fruit pervades, but that buffered limestone nature is never far from the surface. There is just a slight kiss of oak. Funnily enough, this stands here as a well-made, elegant, balanced Chardonnay but nothing about it points to Germany, or possibly Franconia at all.