< Back to all news
ABS Wine steps up Terlato deal with Federalist & Dueling Pistols - The Buyer
ABS Wine Agencies, Tue 06 Jul 2021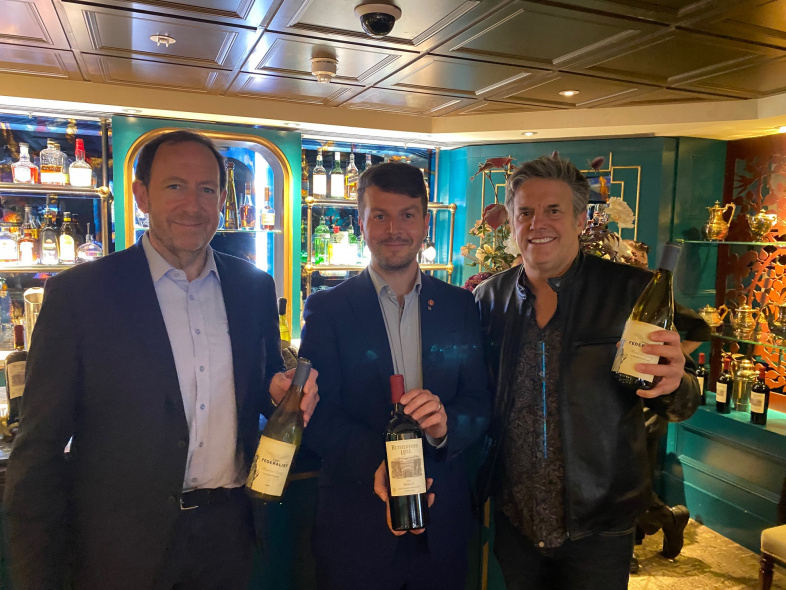 To read the full article written by Richard Siddle, click here - The-Buyer.net
Selling and distributing wines into the premium on-trade is as much about the relationship a producer has with its importer as it is the quality of wine being sold. Only when both have the full confidence of each other can they build on that relationship and introduce more wines and increase their footfall together. This is very much the case between Chuck Cramer, who heads up California's portfolio from Terlato Wines in the UK, Europe, Middle East and ABS Wine Agencies, who first started working together at the end of 2020 when ABS took on Rutherford Hill, Napa and has now gone up a gear by taking on The Federalist and Dueling Pistols wines too.
Terlato's Chuck Cramer and ABS Wine Agencies' partner Elliot Awin look at what is needed to have a successful producer and importer relationship. (Main picture is Mike Awin, of ABS Wine, with Salvo Russo, Heliot Steakhouse at Hippodrome Casino and Chuck Cramer).
ABS Wine Agencies does not take on new producers lightly. Whilst it might always be interested in what other partnerships there might be out there, it is also very aware of the time needed to make sure any new winery that comes on board is given a fair opportunity to succeed in its portfolio. It's why, admits partner, Elliot Awin, it is more likely to say 'no' to taking on a new producer that it is 'yes'.
What it is far keener do, he adds, is to build on the relationships and partnerships it has already built up with producers that it knows it can work with, whose objectives align and there are real synergies to work more successfully together.
That is very much the case with how it is now working with California's portfolio from Terlato Wines, looking to strengthen the ties the two have forged when ABS first took on the iconic Napa winery, Rutherford Hill, at the end of last year.
The way the two businesses have been able to gain sales, and traction in such a relatively short period of time has given them both the confidence to go the next step and from this month ABS will also now be the exclusive distributor of the Federalist and Dueling Pistols premium Californian wine brands – taking over the wines from Matthew Clark.
Much of that synergy comes down to the personalities and get up and go attitudes of Terlato's UK and European sales director, Chuck Cramer, and ABS' partner Elliot Awin. Both of whom know exactly what they want from any producer and importer relationship and are ready to push forward with partners they know are right for each other.
Right synergy
Synergy is a word that Awin comes back to a lot. It's the key ingredient, says Awin, that ABS is looking for. As a small family business itself, it wants to work with likeminded families that both share the same passion to do business together, but to do it in the right way.
"There was a synergy there when we decided to take on the Rutherford Hill brand last year," says Awin. "Something just clicked and that's why we are now keen to talk to Chuck about other wines in the Terlato portfolio that might be right for ABS," he adds.
ABS also takes a category – or at least a county – approach to any new wine it takes on. Across its range it only takes on another producer in any region or country in the world if it complements and adds to the wineries it already has. Which for California meant finding wines that together would give ABS a strong proposition of serious premium Californian wines that demand the attention of the top wine buyers in wine merchants, restaurants, bars and hotels.
"We felt that our Californian range would have even more gravitas by having the Duelling Pistols and the Federalist wines in it," says Awin. "They really help round off our whole Californian portfolio."
He adds: "We have slowly become a major player in Californian wine in the UK, with nearly 20 wines in our range. But these are all premium California that retail £20 and northwards and are synonymous with what is happening in the region."
It means it now has a range "for everyone" looking for premium Californian wines, across price points and styles that includes not just the Terlato wines but also includes Grgich Hills Estate, Hope Family and Peter Franus.
"There is a style of wine from each estate that is very different and it means we can offer wines that can sit at two or three layers on a wine list. It also means we have different estates to work with depending on the operator and their venue," explains Awin.
"You can't be a one trick pony with California," adds Cramer. "It's a hard category to do business in and you have to the right wines for every venue."
Awin agrees: "People are looking for more diversity from California, far more so than they have seen in the past. That's what these wines also give our range."
The Federalist range
Taking the two ranges separately then with the Federalist you are buying into "little pieces of Americana," says Cramer, with each label carrying a different image of "one of our "Founding Fathers" with George Washington, Benjamin Franklin, Alexander Hamilton and Lady Liberty which graces the front label of the Chardonnay
He says each bottle is like picking up the wine equivalent of a Ford Mustang, or a Route 66 sign. "It's Americana in a glass," he says.
ABS is initially taking on four of the eight strong range including: Chardonnay; Lodi Zinfandel; Cabernet Sauvignon; and the Bourbon Barrel Aged Cabernet Sauvignon.
"They are each a brand in their own right and are stylistically very different," says Cramer. "The Federalist wines are meant to be enjoyed now and each offers fantastic diversity. Our winemaker, Bryan Parker, makes these American craft wines so that they can be enjoyed by the glass and ABS Wines has them priced spot on to go BTG."
He adds: "The Federalist Chardonnay is awesome on its own, yet in addition to going well with a Caesar salad, it will stand up to a cheeseburger and rib eye steak.The Federalist Lodi Zin is a cracker of a Zin from Lodi, and hits all the right notes that a gorgeous Zin has to offer – blueberries, raspberries, spice, figs and hints of chocolate. In the US, this Zin is the second biggest selling Zin sold BTG.
"The Federalist Cabernet Sauvignon is fruit, well balanced with smooth tannins that make this your go to steak wine. It's in the top 10 Cabs sold BTG in the US and our biggest seller in the UK. The Federalist BBA Cabernet Sauvignon is also from Lodi. Our Federalist packaging is highly innovative, and each engages with a story of our US history. The front label looks like a bourbon cask. This Cab is loaded with black berry fruit and offers a fantastic vanilla & coca cola finish that you get from the bourbon barrels. It means each wine in the Federalist range can be handled and promoted in their own right as each will be suitable for a particular type of outlet based on its style and price point."
Prices for the Federalist wines range between £23 and £30. But overall they offer outlets premium, fruit forward Californian wines with a strong brand image and engage the consumer with a story, a piece of Americana, stresses Cramer.
"Having the different brand images is really important," says Awin as one will be more relevant to a certain customer over another and they provide a nice "complement" to what Rutherford Hill offers. "It means we can plan different roles for them at different price points."
He was particularly keen to have the Federalist Bourbon Barrel aged wine (aged in bourbon barrels for six months which stands out against the competition, says Cramer, as "we don't use staves") as that really gives it a talking point when out with customers.
"Bourbon barrel aged Cabernets is still a new category here in the UK," says Cramer. "So we are excited to see what fun we can have with that."
Dueling Pistols
This award-winning design, created by Stranger & Stranger, just makes you want to pick up the bottle and see what is going on. The deliberate wraparound label that does not quite meet only adding to the intrigue and back story of the wine. "It's just awesome storytelling," says Cramer. "It's uniquely American."
The wine story behind Dueling Pistols is these are two wines made up of 50/50 blends that are two competing varietals battling it out in a bottle – the Paso Robles made up of 50% Cabernet Sauvignon and 50% Petite Syrah, whilst the Dry Creek Valley Blend is equal amounts of Zinfandel and Syrah.
Which in the creative minds of Stranger & Stranger turned into a classic shoot out that actually depicts the true story of duel in the mining town of Hangtown, California between Eli Guyot, a lawyer from Wisconsin and Edward O'Rourke, a con-man from Pennsylvania. The brand has become a story in itself and now has a successful podcast spun off the back of it in the US which re-tells story of the old Wild West. The Paso Robles label has the guns drawn, whilst the Dry Creek has the guns raised on the label.
The Dueling Pistols range, made by winemaker Bryan Parker, offers ABS something different again. Not just the imagery, and the story telling, but it pushes the retail price to just over the £50 mark.
"At that price point it fits in perfectly at places like Harrods, Hedonism. We think there is a great opportunity there once they hit the shelves," says Cramer.
He concedes that these are also big 15% abv Californian wines but stresses they have still have the "freshness and elegance" that have become the benchmark for premium California in recent years. "They are really well-made wines."
He adds: "It also gives us a brand that will work so well in premium steak restaurants and provide an alternative to Rutherford Hill which can be positioned more at fine dining. But as with the Federalist it is a brand that can work really well both in premium retail and the on-trade. There are great opportunities for both."
Dueling Pistols also sits in nicely to the overall premium pricing position that ABS is looking to present to the trade, says Awin. "That's the way our business model works. We are not out looking for big volume sales, but we want our customers to work with us to cherry pick smaller amounts of wine that they sell at higher price points, at the average £45 to £50 level."