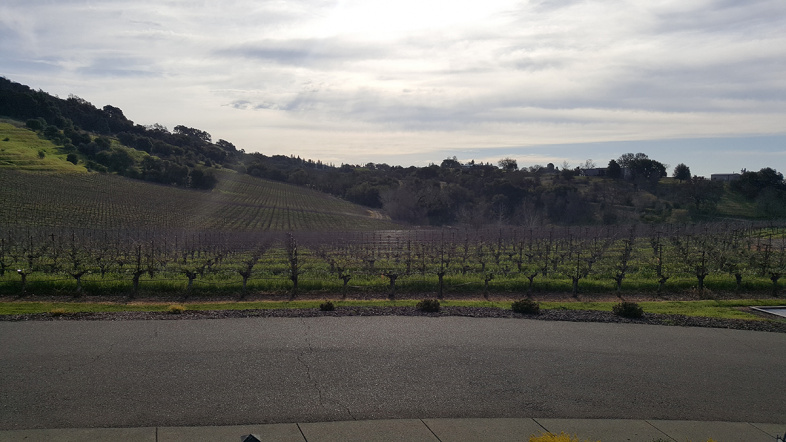 For all the ABS Team, this was the first business travel since the beginnings of Covid and driving from San Francisco airport towards Monterey watching a picture-perfect sunset that seemed to go on forever, certainly put everyone in a California state of mind.

Elephant seals
Awake early and eager to start the Californian adventure, we decided to drive the coastal route, Hwy 1 to Paso Robles, it delivered dramatic scenery, fine beaches, scary roads and a beach covered in not large rocks as we first believed, but over 1,000 basking elephant seals! It was with some reluctance we said goodbye to the coast and headed inland ascending through a verdant, rolling landscape towards Paso Robles. First impressions as we approached were very much of an area filled with new plantings, rolling hills and architecture redolent of the Mediterranean winelands.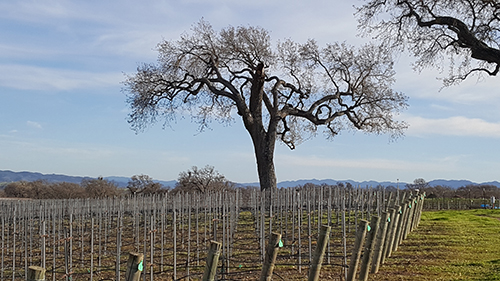 Oak Tree at Hope Family Wines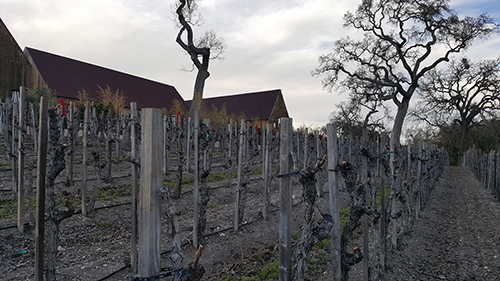 Old vines outside Hope Family's Cellar Door
Our destination was Hope Family Wines, approached by a spectacular drive peppered with magnificent oak trees. Guest experience is at the forefront here, and we were warmly welcomed by polished staff and shown to a reserved seating area where we met with Stasi Seay, Vineyard Director. We were keen to learn more about the Paso Robles region, which is still relatively unknown to many in the UK. This is something that Austin Hope of Hope Family Wines is eager to change. He wants his wines to define Paso Robles and is fiercely proud of his farming heritage and the wines that the region is now producing. Walking the vineyards surrounding the tasting room with Stasi it became apparent that HFW is heavily invested in supporting the Californian SIP certification programme, not only have wildlife corridors been introduced to protect native species around the estate vineyards, but they also only source grapes from growers whose vineyards are SIP certified.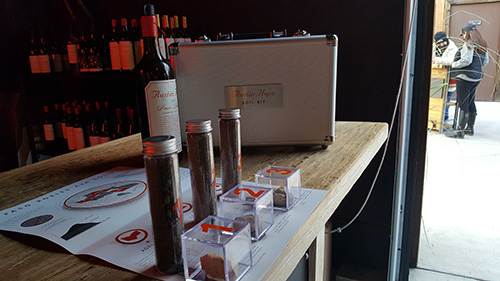 Soil samples and Austin Hope Cabernet Sauvignon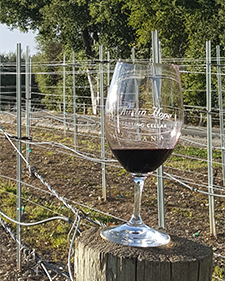 Glass of wine in the HFW vineyards
Cabernet Sauvignon is key to production at HFW, and alongside the wines currently stocked in the UK, we did taste the new Austin Cabernet Sauvignon, which is rapidly gaining recognition in the USA, viewed as the baby brother of the Austin Hope Cabernet Sauvignon. This sat well on our palates and is now under consideration for the UK market.
Before dinner we had a chance for a brief walk around Paso Robles itself. It's obviously a town that is going places, lots of new wine bars & tasting rooms under construction, plentiful first-class restaurants and coffee shops, along with some rather glamourous looking interior design shops. The impression we were left with is that Paso Robles is looking for an audience, it wants more than to just be where you go when you're bored of Napa, it wants recognition for itself and the wines it is producing. It's a region we expect to hear a lot more from.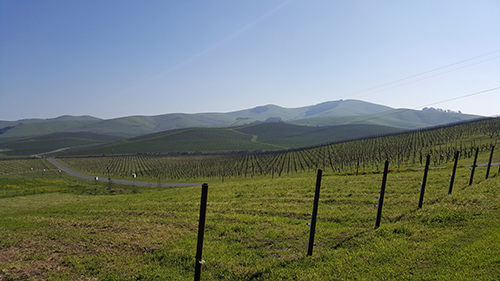 Grgich American Canyon Vineyard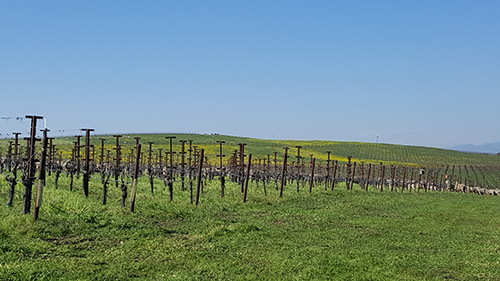 Mustard Grass at the American Canyon Vineyard
The following morning we drove 4 hours north to Napa Valley arriving at the Grgich Hills Estate American Canyon vineyard, where we met with Ivo Jeremaz, Winemaker and Vice President of Vineyards & Production. Ivo is evangelical about sustainable farming practices and vineyard husbandry. As we stood listening to him, looking at the vineyards, with yellow mustard grass sprouting freely between rows, watching the thousand plus sheep grazing amongst the vines, it was hard not to be enthused. Ivo believes firmly that we are mere custodians of the soil and that only a regenerative soil programme can produce the healthiest vines and best fruit possible. To Ivo winemaking should be non-interventionalist, it is 100% made in the vineyard. As all the Grgich Estate vineyards are fully certified Biodynamic and Organic, we were treated to a sneak peek into Ivo's "hobbit's cave" where he personally prepares all the biodynamic preparations for the vineyards. Truly fascinating! Lunch was served in a bucolic spot within the vineyard, with British Chef Malcolm serving us amazing seafood and charcuterie. After lunch we headed to the winery in Rutherford, where we met with Violet Grgich, the President of Grgich Hills Estate and tasted through the wines with Maja Jeremaz. It was an opportunity to taste wines not currently in the UK portfolio and we did particularly enjoy the Sauvignon Blanc – Skin Fermented with natural yeasts, only very small quantities are produced, but we are considering this as an addition to the UK range.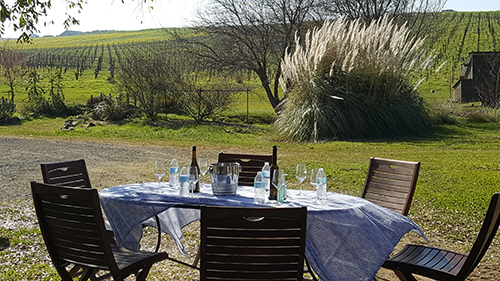 Lunch at Grgich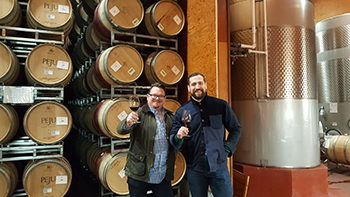 In the Peju Cellar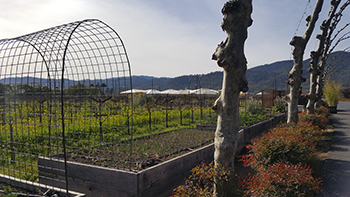 Dining at Peju next to the Vineyard and vegtable patch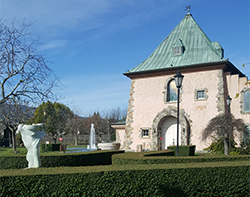 Cellar door at Peju
Saturday was dedicated to investigating new wineries and possibilities and we started the day meeting with Michael Smith at Péju, with its bent trees lining the drive and bbq spot nestled amongst the vineyard. Péju is obviously a destination winery in the valley, as the tasting room was already full with groups when we arrived at 10am. The wines were correct and well made, with the Late Harvest wine standing out. This was followed by an "interesting" drive across the Mayacamas Mountain Road to Sonoma County, where we visited with St. Francis Winery. We were treated to a very professional tasting and they showed us not only their Sonoma wines, but also their Sequoia Grove range. Discussions are ongoing with St. Francis.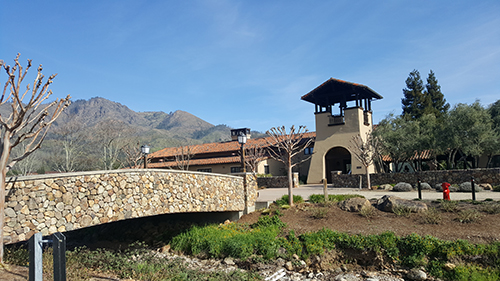 St Francis winery in Sonoma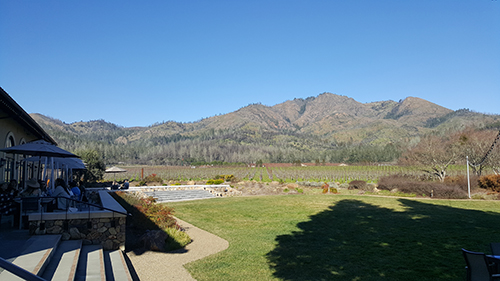 St Francis winery and vineyards
Sunday was a winery free day – not that that stopped one of the team, who headed off into San Francisco to join a wine-tasting group, run by an old acquaintance, he came back much enthused, as he had been fortunate enough to taste Screaming Eagle for the first time!
Peter Franus - Lake County Vineyard
Monday brought another adventure a trip to Cobb Mountain in Lake County, where Peter Franus wines source fruit – a world away from Napa on the other side of the St. Helena mountains, remote and fascinating with red iron rich soils. We returned to Napa and met Peter & Deanne Franus at Laird Family Estate where they make their wines, before heading to the very special Brandlin vineyard atop the hills. The Brandlin vineyard is a part of Peter's heritage as he has been farming it for a large portion of his career and it is one of his favourite spots in the valley, the vines are old and gnarly, giving the wines their power and concentration, yet the elevation of the vineyard means they retain elegance. We were all enthused by the location.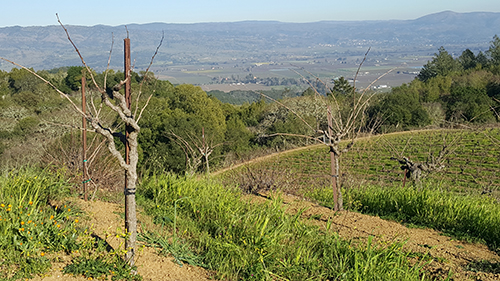 Peter Franus Brandlin vineyard looking down on valley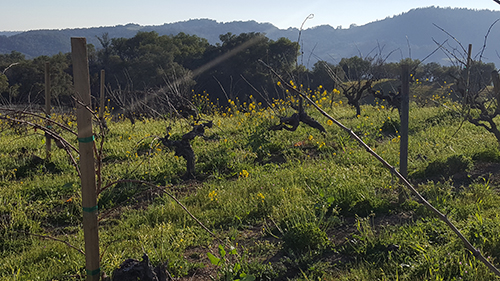 Vines at Brandlin vineyard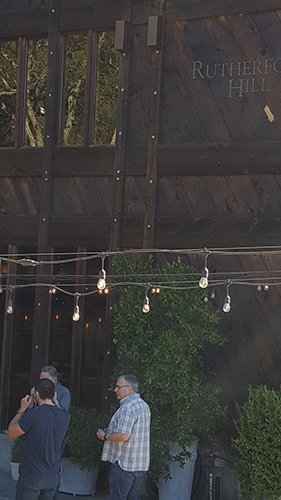 ABS at Rutherford Hill Winery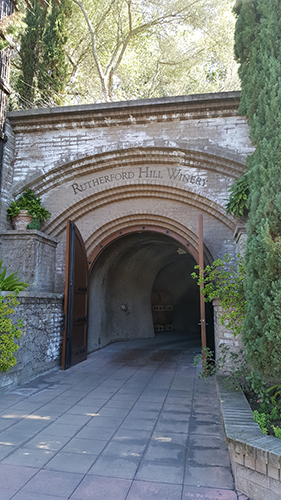 Rutherford Hill Caves
The final two days we spent in the company of the Terlato team, starting first at the Rutherford Hills winery, with its amazing system of caves. We were treated to a tasting by both Brian Parker, who makes Dueling Pistols, & The Federalist wines and Marisa Taylor, the winemaker for Rutherford Hill. The wines showed well and we had an interesting discussion around the use of Bourbon Barrels and their effect upon the wines, not everyone was convinced of the benefits! Although we were aware that the Rutherford Hill Chardonnay was being discontinued it was disappointing to learn that it was being replaced by a Sauvignon Blanc, which was very vegetal and herbaceous in style and not suited to the UK palate, which is more used to the grassy, tropical NZ style.
Maxville in the Chiles Valley AVA across the mountains in St. Helena was our final stop of the day. Another stunning Cellar Door venue, with amazing views across the lake. The wines were well made and packaged but were at too high a price point to be commercially relevant in the UK. We finished the day with dinner in Yountville then onwards to Napa, it was a surprise (although perhaps a blessing) to discover a winery town where the bars and restaurants shut at 10pm!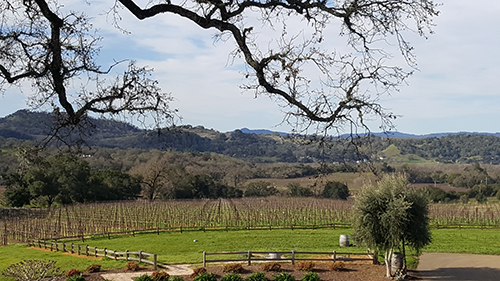 Hanna Vineyards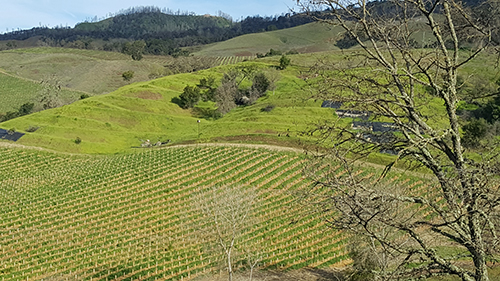 View of Hanna vineyards from the tasting deck
Our last day brought a whistlestop visit to Hanna Winery in Santa Rosa, perhaps one of the most commercially interesting ranges that we tasted, there was a real consistency in winemaking and sense of place in the wines. We particularly liked the Russian River Chardonnay and Pinot Noir as a pair and are now actively investigating the possibility of these wines for the UK market.
In summary California is a remarkable place, for gastronomy, weather, the lot! The vineyards are without exception sited in beautiful landscapes. This obviously contributes to the overriding sense that wine tourism is as big a driving force as actual winemaking at many vineyards. Several estates we visited advised they had over 5,000 Wine Club members and they are continually having to create new wines and parcels to keep this subscription audience in thrall. With that level of subscription, most wineries could sell all their wine out of cellar door. Pricing reflects this fact and does beg the question, why would anyone want to export to the UK? We are grateful that they do – as we found the wines overall to be beautifully made and varietally correct, we will certainly be contemplating some range additions after the trip and potentially a new winery to the portfolio.
Our thanks go to the CWI for awarding us a Bursary.