< Back to all news
A Tough Summer - Gundog Estate, Hunter Valley, NSW
ABS Wine Agencies, Wed 19 Feb 2020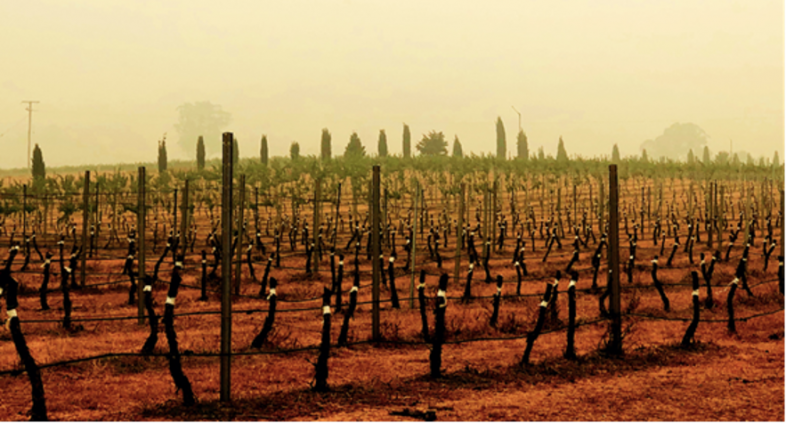 There is no doubt this summer has been like no other I have experienced. And now, as we move through the final month of the season, we find ourselves in the midst of a difficult Hunter Valley harvest.

During the summer growing period, our vineyards met a multitude of challenges. The continuing drought conditions have been regularly exacerbated by exceptionally high temperatures and relentless wind. The heat and the dry have been so unforgiving that, for the first time, I've seen grapevines die. Native trees and shrubs are doing the same and wildlife can be found desperately searching for food and drink. I dragged a wallaby from the dam at our Gundaroo farm after she died in the puddle she was drinking from. Rabbits, foxes and roos chew at vineyard irrigation lines in the futile hope of finding water – again, seeing this is a first for me. In combination, these ruthless conditions fuelled what we are now only too familiar with - the extraordinary and unprecedented bushfire disaster. This disaster, which in fact started to unfold in November, will be the enduring memory of this summer for many of us. So great is the scale of the drought and the fires, it has touched everyone from the bush to beach along the entire east coast of New South Wales, north into Queensland and south to Victoria.

Before I go any further, I would like to say this. I count us amongst the very lucky. The challenges we face simply pale in comparison to those dealing with the devastating loss of life and property brought about by the fires. Our thoughts remain with these individuals and families. This includes the families of those firefighters who perished while bravely serving in the defence of others. On behalf of everyone at Gundog Estate we thank each and every person that fought these fires.

In many ways, we are still only just coming to understand the full impact of this disaster. In the Hunter and now Canberra, our immediate production concern is the potential for 'smoke taint.' This can arise in wines produced from grapes exposed to bushfire smoke for extended periods. Unfortunately, the science around smoke taint detection and mitigation is still relatively new and often inconclusive. This means we are working closely with the Australian Wine Research Institute and employing a variety of tests and production strategies to ensure the fruit we do harvest is going to produce high quality wine. We are adamant that we will only release wines of the type and quality our customers expect from the brand. We are also committed to supporting our growers – by harvesting as much viable fruit as possible, without price adjustment. Like other farmers around the country, our growers are on the absolute frontline in responding to and bearing the consequences of disasters, like the drought and bushfires. They are doing it tough.

The combined impact of drought and smoke taint means that our current expectation is for a significantly reduced harvest, potentially by as much as 70%. Clearly this will present challenges for us over the next twelve to twenty-four months, perhaps even longer if the drought prevails. Unfortunately, when multiplied across the number of similarly affected wineries nationally, the economic impact of this summer is likely to reach deep into the industry's supply and distribution chains. On a regional level, the flow-on effects from the loss in trade, resulting from the abrupt drop in summer visitation (the Hunter Valley and Canberra included), will be profound for many businesses, as will the financial burden carried by growers from cancelled fruit sales.

One of the few highlights from this difficult summer has been the uplifting and extraordinary outpouring of support the wider community has shown for those affected by the fires. For those of you who have made the effort to visit our cellar doors in the Hunter Valley and Gundaroo – thank you. And thank you to everyone else who sent us messages of concern and support throughout. If you were wondering what more you can do to help; my suggestion is really just keep supporting. Continue to seek out, visit and support those businesses in fire-affected areas. Don't forget that after the smoke clears, the enduring economic, social and emotional impact of these fires will still be felt by many.

And when considering the ways to help with recovery, don't forget the unprecedented ecological damage these fires have caused. Via our partnership with 15 Trees, Gundog will work even harder to make a meaningful contribution to the regeneration of the natural environment.

At Gundog we are a resilient crew. The cellar door and winery staff (many of whom were significantly affected by the bushfires) have been doing an amazing job. Our cellar doors are open and ready for visitors and our winery team is busy with the Hunter harvest. The fruit we have taken thus far is in excellent condition and we have high hopes for an, albeit small, high quality vintage. We will soon be preparing for the arrival of our Hilltops and Canberra sourced fruit and again we are hopeful quality will be high.

We look forward to sharing the Gundog journey with you throughout the year ahead. We are grateful for your understanding and ongoing support, particularly when facing difficult years like this one. Without it, we simply wouldn't be here.
Matt Burton, Winemaker, Gundog Estate